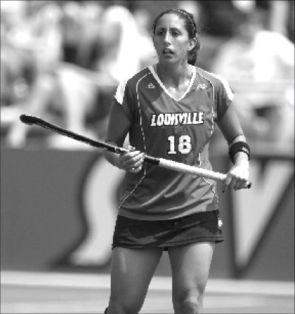 Janelle Avila, a prominent figure in the world of field hockey, has left an indelible mark on both the collegiate and international stages. During her senior year at the University of Louisville, she proudly represented the United States Under 21 team, showcasing her extraordinary talent on the global stage. Simultaneously, Janelle served as the unwavering captain of the University of Louisville field hockey team, leading her teammates with determination and resolve.
Janelle's journey in field hockey commenced during her high school years in North Kingstown, RI. Her list of achievements during this period is nothing short of remarkable, including prestigious All-American honors and a consistent presence as a three-time first team All-State member. Beyond individual accolades, she was a three-time team MVP and held the illustrious distinction of owning career and single-season scoring records at North Kingstown High School. Her commitment to excellence extended beyond the field, as she also excelled in basketball and softball, adding to her impressive athletic repertoire.
Janelle's unwavering dedication to both athletics and academics is evident through her numerous accolades, including recognition as an Arthur Ashe Sports Scholar and inclusion in the NFHCA National Academic Squad. While her athletic accomplishments are numerous and distinguished, Janelle holds being named to the U.S. Under 21 team as her greatest achievement and regards representing the United States in China as the proudest moment of her athletic career. Patriot Field Hockey is exceptionally fortunate to have Janelle as a valuable member of our staff, bringing her wealth of experience and expertise to our organization.